CaddHawk offer customised CAD drawing services to meet the requirements of your project. We can convert any hand drawing to a multi-layer interactive CAD drawing. Our CAD specialists can take engineering, electrical, plumbing or architectural designs and produce highly professional and accurate 2D and 3D design.
Paper to CAD
Raster to Vector
Architecture cad drafting
Scan to cad conversion
Space Management
Space Planning
One line diagrams
Drawing Development
Mechanical Drawings
Paper to CAD Conversion
We convert your old paper drawings into readable, accurate AutoCAD drawings. By digitising your drawings you will be saving space, money and time. We take care to ensure your paper to cad conversion is as accurate as possible. We hand trace the drawings using the latest AutoCAD & making for an exact copy of the drawing according to dimensionally with proper Layering & Standard. We can cater your requirements of converting your hand made Sketches, 2D drawings, Blue Prints to AutoCAD by redrawing them as per your specific requirements and standards. All existing drawings will be converted into CAD electronic files in formats like AutoCAD by manually redrawing them.
2D Drafting CAD Service
From a simple drawing revision to the full drafting requirements of an entire project our popular 2D drafting cad service is comprehensive and reliable. We can produce plans, sections, elevations, isometrics, schematics and details that conform to your in house standards or to our own documented standards
Raster to Vector
Vectorization is conversion of bitmap images into vector format (Editable). Vector files are suitable for specialty printers and spot colour separation, cut-ready art for vinyl signs, engraving, plotters, web use and more. We can also create vector line drawings from below Inputs.
Schematic (Single Line Diagram)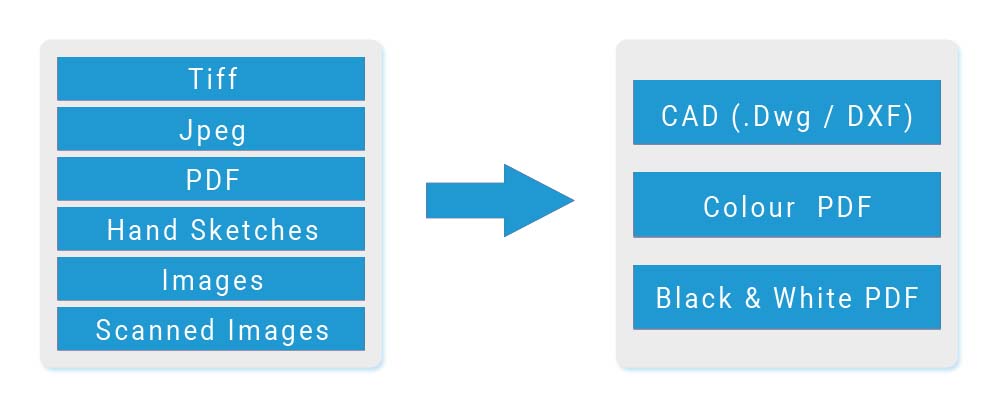 Schematic Drawings are diagrams of an electrical or mechanical system. They are of a top level drawing and describe how something works and/or how individual parts interface. Schematic drawings are often used in a concept or early design stage to outline a design and its principles
CAD Management
Effective CAD Management can help you to make significant savings in your drafting costs. By delivering new technologies, processes and standards you can make significant short and long term gains in productivity. From installation and deployment of CAD tools, and Software to the day-to-day management and support of AutoCAD software, we will guide you through the processes to make your CAD department run more smoothly, efficiently and effectively.
Inquiry